Mercy Centre - Pimlico Campus
Learn more about how to access our Pimlico Campus
A new era for Mater
From Tuesday, 24 March 2020, the entrance of the Mater Private Hospital Townsville Pimlico Campus, will be relocating to coincide with the opening of the $52 million Mercy Centre.
The centre will features a new Queensland X-Ray facility, digital operating theatres and a specialist day surgery unit.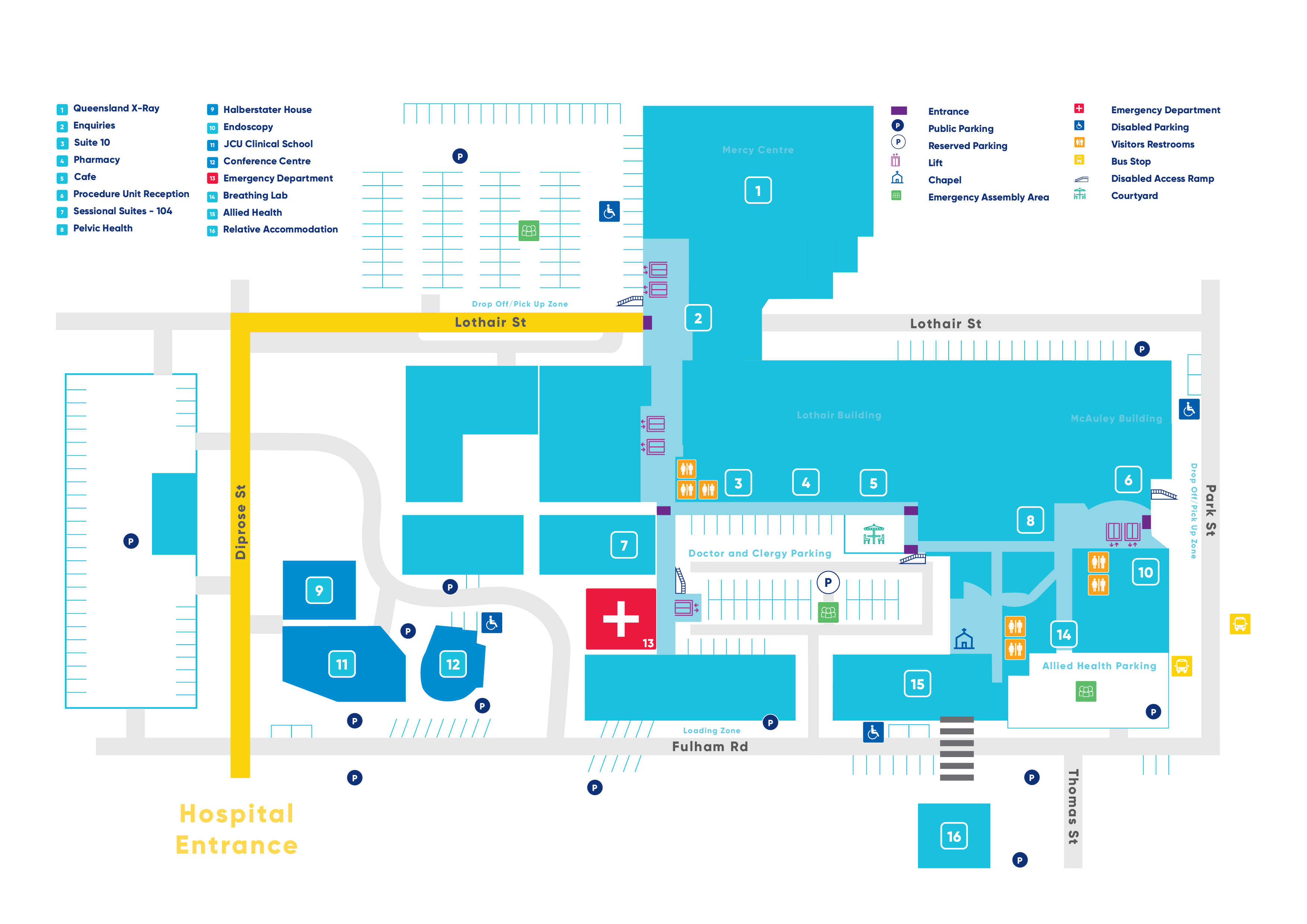 Travelling to our Pimlico Campus
Driving and walking:
Visitors are encouraged to park in the multi-storey car park.
Visitors who are parked along Fulham Road are asked to enter the Mercy Centre by walking along Diprose Street and turn right onto Lothair Street.
When walking, please follow safety signs and remember to Stop, Look, Listen and Think.
On and off street parking is limited along Fulham Road, so please abide by council signage.
Drop off zone is at the front of the Mercy Centre.
Taxi and rideshare:
Taxi zone is now located at the front of the Mercy Centre (Lothair Street).
Rideshare zone will be located at the front of the drop off/pick up lane at adjacent to the Mercy Centre.
Private courtesy buses will drop off and pick up in the drop off/ pick up zone.
Contact Townsville Taxis for more information.
Bus:
Townsville Sunbus operates seven days a week.
The primary bus stops for Mater are located on Park Street.
Visitors are encouraged to walk along Fulham Road, turning right into Diprose Street and then right onto Lothair Street.
Visit the Sunbus website for the most up to date timetable.
People with a disability:
Unaccompanied visitors seeking assistance can contact reception to arrange assistance from our dedicated support staff.
People with wheelchairs can use the designated disabled car parks. (Refer to map)
Dedicated accessibility zone for drop off/pick up zone.
Call our Patient Services Team for more information.